Hot Press Magazine
"The Secret Things Sign Swedish Record Deal" //2018

Born Music Online
"The Secret Things Release Their Powerful New Track 'Bully'" //2018

Voyage LA Magazine 
"Meet Cynthia Catania of The Secret Things"  //2017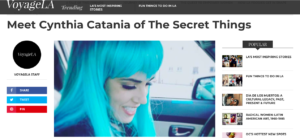 ANR Factory !!
(Where Artists Get Discovered) //2017
Kick-Ass review by this hot Music Blog!  Click thru to read!
"6 Politically Minded Plays & Musicals Note to Miss"  Read how this standout LGBTQ publication endorses The Secret Things –  Hotel Cafe – Trans Community Benefit. 
Read about director Sue Ann Pien.  //2017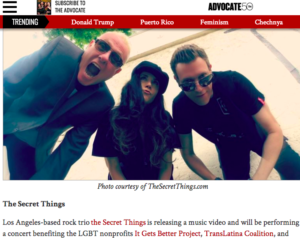 "The Secret Things release cover of PJ Harvey's 'Down By The Water' for transgender charity" Music/News: 14 Sep  Peter McGoran  //2017

AMNplify in Australia  //2017
Covers the Hotel Cafe Benefit for Trans Community!

The prestigious publication mentioned our newly released cover of "Down By The Water", a homage to one of our hero's, PJ Harvey.  //2017

Another great review of our newly released PJ Harvey cover "Down By The Water"!  //2017

Album Review:  The Secret Things, Shock Diary
"Newly-minted LA trio unveil assured debut"   //2016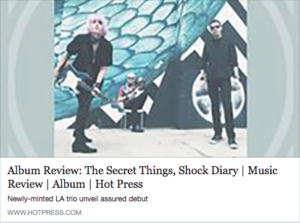 "Shock Diary" Review by The Valley Star   //2016

"All The Way Down" Video Review by AMN  //2016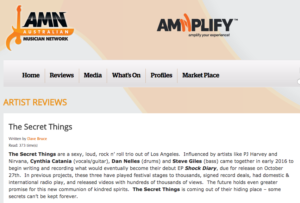 YouTube "All The Way Down" Video Review by Alex Almeida  

//2016
Review by The Indies "The Secret Things" Band, Review by The Indies  //2016