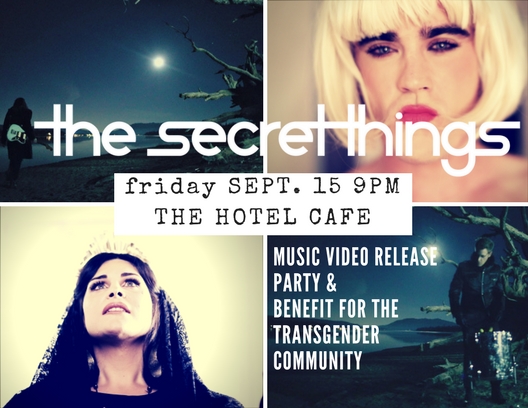 Address :
1623 N Cahuenga Blvd, Los Angeles, CA 90028
The Hotel Cafe Music Video Release Party to Support Trans Community
Hollywood
The Secret Things celebrate their new video, their Hotel Cafe debut, and their director, Sue Ann Pien & her vision. Here's a little bit about what you'll see on Friday, Sept. 15th:
"Down By the Water" is a PJ Harvey song originally written about filicide (a mother drowning her child) covered by L.A. based rock trio The Secret Things (Cynthia Catania, Steve Giles, Dan Nelles). The band has been written up in Hot Press magazine (the Irish version of Rolling Stones) and their cover of "Down By the Water" has already made airwaves on Canadian radio stations. Director Sue Ann Pien created the music video to reflect the hidden journey of trans people, who not only are more prone to encounter violence and abuse in the outside world, but also within their own families – making them more vulnerable to homelessness, drug abuse, and suicide. This music video is dedicated to the honoring of our trans community around the globe and aspires to increase compassion for their struggles through visibility.
We are incredibly excited to partner with the It Gets Better non-profit for the official music video release and will have more news coming soon!
Contact info@thesecretthings.com if you are interested in becoming involved